Santa's Lil' Shoppe will open its doors Thursday, Dec. 1—4 to 7pm; Friday, Dec. 2—4 to 7pm and Saturday, December 1—10am to 4pm.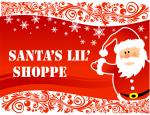 Santa's Lil' Shoppe  is a great place for kids to buy gifts from Mom, Dad, Grandparents, siblings and friends. Parents can bring their children in and Tri-Rivers "elves" will help them do their holiday shopping at the budget the parent sets.
This year Santa will be there for photos! For $5 parents may purchase a CD with 3 photos.
The Shoppe is located in Room 150—Life Sports Lab at Tri-Rivers. Gifts range in price from $2 to $5.
All proceeds from this activity we benefit Career Technical Student Organizations.